About Me
My name is Rob Haigh, Managing Director of RH Chartered Surveyors (RHCS). Here you can learn a bit about me, what makes me tick personally and professionally, how I came to launching RHCS and why I believe it has incredible potential.
Personal Life
I am a Nottingham lad and have lived in the area for most of my life. I would describe myself as passionate, down to earth and personable with a fierce work ethic. I believe that positive energy and in-depth knowledge are paramount to success - I seek to use both within my daily life and they are central to the DNA of RHCS.
I am very family-orientated, my wife Natasha and I have been together since we were 17, were married in 2014 and now have two beautiful children, Lydia and Cooper. They are the fuel to the fire that drives me every day to continue to learn and improve myself as a person, to be the best version of myself that I can be and provide the best I can for them.
Away from work and family, you will likely find me with friends or taking an interest in virtually any sport, with football and tennis being top of the list. I am a lifelong Forest fan (for my sins) and have enjoyed playing football at a local level since I was young. My body bears the scars of 20+ years of competitive sport and is ageing far beyond its years, meaning that my involvement is far less than it used to be.
I am now looking forward to seeing what my youngsters will take an interest in as they grow up and will support them in any way I can. I am also hoping to watch Forest more regularly but whether I am 'looking forward' to that is another matter!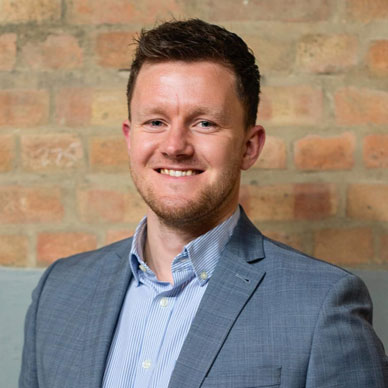 Expert on all commercial property matters
Personal approach to a professional service
Affordable fees, less than half the typical rate
Experience at well-established firms in multiple locations and sectors
Operating across Midlands and Yorkshire property markets
Professional Career
My career to date has been fast paced and a constant steep learning curve, the challenges of which I have consistently embraced and faced head on, allowing me to progress quickly and experience working for some of the best firms in the industry.
I went to Nottingham Trent University from 2008 to 2012 completing an undergraduate degree in Real Estate BSc (Hons), a year of which I spent on work placement at Leicestershire County Council.
As soon as I had graduated, I joined Fisher German LLP (FG) and spent five years working directly under the Head of FG's Commercial Sector. We were always a small team and didn't have the manpower to focus on particular specialisms, everyone had to cover everything. This provided an incredible learning curve and education for me as a young Surveyor and this experience is very visible in the way RHCS operates, as a general practice firm with the ability, experience and knowledge to advise my clients on all commercial property matters.
In April 2014, I passed the Assessment of Professional Competence (APC) first time, becoming a Member of the Royal Institution of Chartered Surveyors (MRICS) before progressing further to become one of the youngest Associates at the company in 2015.
After five years of working predominately on the 'urban fringe' I wanted to gain experience of the city market and secured a role with Harris Lamb (HL), a successful commercial practice with offices across the West Midlands. Based in the heart of Nottingham's professional district, my role was to establish HL's first Property Agency department in the East Midlands. I thrived in this role and loved every minute, meeting new people on a daily basis to build a presence for HL.
A year later I was offered a role at Lambert Smith Hampton (LSH). LSH is a huge and well-established firm with offices across the entire length and breadth of the UK and the opportunity to join them as an Associate Director was an easy decision. I knew it was a great opportunity and I jumped at the chance.
At 28 years old, I was one of the youngest Associate Directors within LSH and I was charged with leading the Industrial Agency Divisions in the Nottingham and Sheffield offices, covering a patch which included the East Midlands and South Yorkshire.
The learning curve was huge, teaching me an enormous amount about the Surveying profession in a short time and a lot about myself. I rose to the challenge of the level of responsibility but quickly realised that the high-pressure environment of the corporate property industry means the focus had to always be on targeting the most profitable work and constantly needing to generate fees at an ever higher level to justify your existence in a dog-eat-dog world. Whilst this might be exhilarating for a while, I knew I wanted to work in a different way and control my own destiny... and so the vision for RHCS began to take shape.
This is no reflection on any of the firms I have worked for, because without them and the hundreds of incredible people I have met and worked with along the way, I would not be where I am today. Each is a fantastic firm and they all offer their clients an excellent service. But by founding RHCS, I have been able to take everything I admire about each one and implement those individual elements into my own company ethos, meaning that my clients can have the best of all worlds; a bespoke personal service offering the very best professional but affordable surveying expertise.
My absolute focus is to develop a platform that means I can provide professional expertise and knowledge to property owners and occupiers and make a visible and material difference to their business. Often owners and tenants don't seek the professional advice they need because they are concerned about the costs, this leads to misjudgements which is why I am determined to offer my services at a price significantly below the market norm. This means that expert professional advice can be accessible to anyone with a property issue, whether it's a landlord looking to minimise professional fees, a tenant up against a bullish landlord and everyone in between. A quick phone call or email to me will result in getting the right advice straight away and can begin to move the matter towards a resolution.
Through RHCS I will always offer an exemplary level of client service and expert knowledge, synonymous with my former employers, but with my own personal, passionate approach and I promise to make a positive impact on your business and commercial property interests, but at a fraction of the cost!
Thanks for making it this far, please get in touch if you need help or advice. I can't wait to push forward and make a difference to anyone with commercial property issues.
All the best,
Rob